At Romano we pride ourselves on having over 60 years' experience in manufacturing bench made quality upholstery.
Many of our craftsmen and women — from frame making to sewing and upholstering — have individually over 30 years' experience and who are proud to put their experience to work every day making exceptional furniture that will be at the centre of your living room. From the raw materials to the finished product, here is what goes into making a Romano.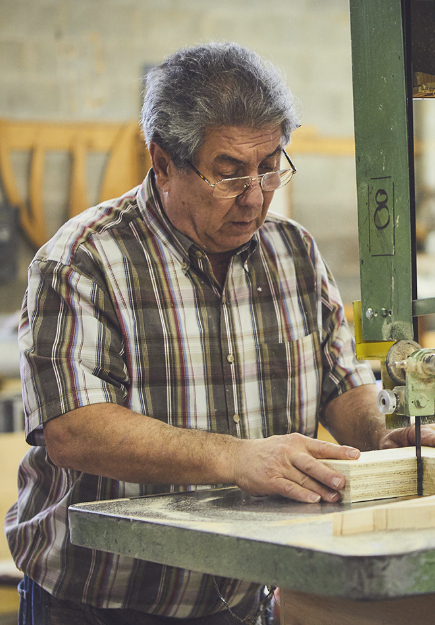 « We are honoured to be working daily with so many skilled craftsmen. »
Frame making
With over 60 years of experience in frame making, we stick to tried and true methods and tools.  

We design and build our own frames from hardwood frame stock (not softwood like pine commonly found in imported products) and low formaldehyde plywood (never particle board or press-wood) sourced only from responsibly managed forests in Canada & the US.

Each plank of solid hardwood is measured, inspected for knots and cut to fit a specific model. The smaller trims are then used in the frame building process in order to optimize the use of material and reduce waste. The frame stock is dried to lower moisture content, and all frames are glued and corner blocked to prevent the frame from breaking or warping.

Our trained frame makers ensure that every frame that we build is robust and warrantied for life. The sinuous steel springs used in Romano's seating suspension guarantee long lasting, no-sag comfort and are sourced in North America containing up to 60% recycled steel.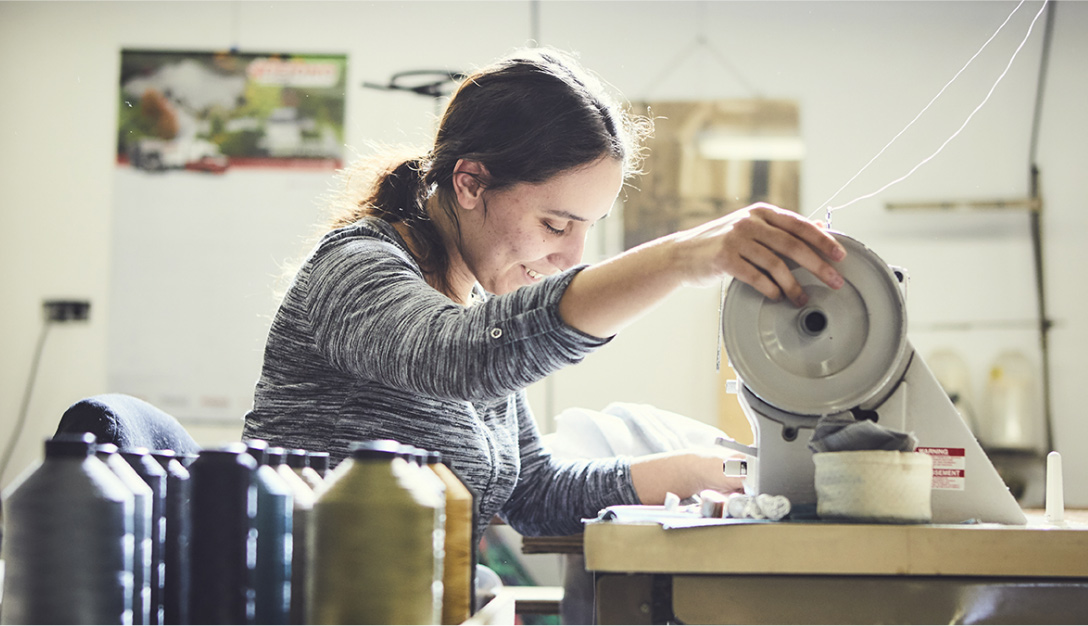 Cutting & Sewing
All of our designs are developed in-house. New designs are tailored by hand until the final patterns are developed to our entire satisfaction, at which time they are digitized in a CAD program.We have recently introduced a CNC cutting machine to the production line, this is our most advanced piece of technology that reads the CAD patterns and then accurately and rapidly cuts-out the individual pieces in the fabric of your choice. The CAD software also allows us to nest patterns automatically, effectively reducing the waste of fabric. After the patterns are cut, our seamstresses will accurately sew each part of the sofa together making sure that lines are straight and taut, usually employing an upholstery top stitch style with a matching colour of the thread to the colour of the fabric. Certain models feature special sewing details like a flange seam or piping details.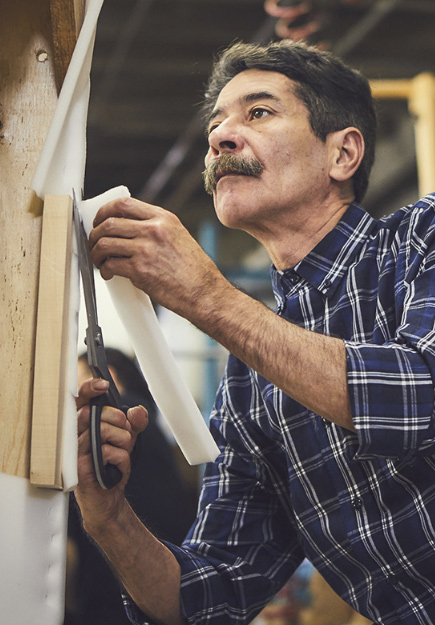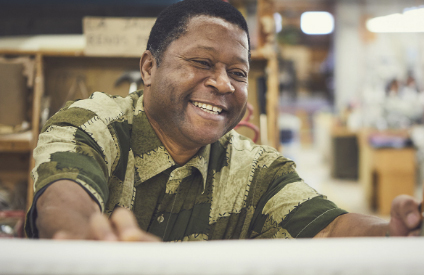 Upholstery & Finishing
In this department, the frame, fabric, foam and feathers come together under the hands of experienced upholsterers to give your sofa its final form: straight seams, taut fabrics, precise crowning are achieved only by a patient, skilled touch.

Most of our workers have over 30 years' experience in their trade, and we encourage them to pass down their knowledge to the younger generation that are passionate about learning a craft. Upholstery is a skilled craft that needs to be kept alive, and can only be taught through mentorship and collaboration that takes years of practice to master.

When making new models, our designer will work directly with our master upholsterer to create new styles. For us this dialogue is essential to the development of a quality product, since the methods we have developed over time are what make our products unique.

We are honoured to be working daily with so many skilled craftsmen.
Are you interested in joining our team?
Careers